EXCLUSIVE: Oakland's premier tech office developer bets big on housing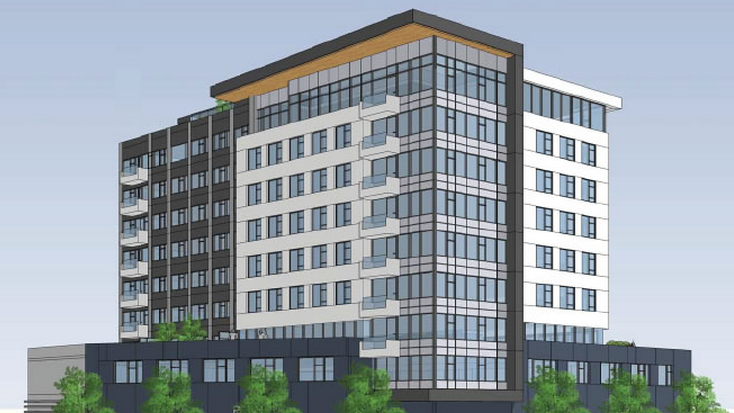 Lane Partners, owner of the former Oakland Sears building being rebranded as the "Uptown Station" technology haven, has been quietly collecting residential development sites near the office property.
The Menlo Park-based developer will soon close escrow on a property at 495 22nd St. that already has planning approvals for 81 units but now houses the fast-food restaurant Giant Burger, according to sources close to the deal.
The City of Oakland also expects Lane Partners to turn two sites that it owns next to Uptown Station into about 100 housing units. Those sites include a parking lot on 2016 Telegraph Ave. and a beauty supply store at 2003 Telegraph Ave. They were a part of Lane's Sears building acquisition last year, but eyed then as potential tenant parking.
The bets on residential development aren't necessarily surprising considering Oakland has started to see more developers propose market-rate housing plans, particularly around the Uptown neighborhood. About 15,000 units are in the pipeline overall, according to the city, and are in a race to get built before the economic cycle turns sour.
But it may also signal that Lane thinks it will snag the kind of marquee technology tenant that will bolster real estate investors' confidence in the area.  Uber has shown interest in the 400,000-square-foot building, and other big-name technology companies like Stripe and Pinterest have been linked to lease negotiations.
There's no shortage of expectations. "Uptown Station channels the ambitious spirit of Oakland to create a destination for the urban pioneers who pursue their passions and seek inspiration in the everyday," boasted a recent marketing video for the building.
At the Giant Burger site, Lane Partners beat out Oakland builders like Signature Development Group, the Nautilus Group Inc. and Chicago-based Akara Partners for the land, located a block and a half from Uptown Station. The site was marketed by Chris Foley of Polaris Pacific and is entitled for a nine-story building.
Lane Partners declined to comment. The deal is still in the due diligence phase, so it isn't complete, but could start construction within the next year because of its entitlement if Lane has financing lined up. A sale price couldn't be confirmed.
Lane Partners had floated the two Telegraph Avenue sites as potential parking for Uptown Station tenants, but "my understanding is that it's for housing," said Oakland planning director Rachel Flynn.
The developer soon will have plenty of company.
Although Oakland just saw its only market-rate project open this year by Signature Development, big-name developers like Lennar Multifamily have recently picked up sites and Strada Investment Group recently got a downtown building approved. Several developers, however, still need to find capital partners before they start to build.
"You're in good company if you believe in the future of housing in Oakland. From a supply standpoint, we're running out of entitled deals to start building anytime soon," said Todd Vitzthum, who brokers land deals in Oakland for Cushman & Wakefield but wasn't involved in the Giant Burger deal.